Since 2000, CCEC and its foundation have awarded more than $400,000 in scholarships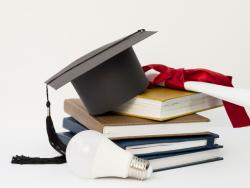 to help students reach their college education goals. Five more scholarships, valued at $4,000 each, will be awarded this year, to graduating high school seniors, and four scholarships will be awarded to students attending Carteret Community College and Craven Community College.
The scholarship programs are open to students whose primary residence is on the co-op's lines. To qualify, the student must be a high school senior in the current graduating class and must be accepted at a 4-year college or university OR 2-year community/technical college. The student cannot be a close relative of a CCEC employee or director; close relative being a spouse, child, grandchild, great-grand child, brother, sister, aunt, uncle, niece or nephew, by blood, by adoption, or in-law of the employee or director.
All applicants will be considered on the stated criteria, regardless of race, age, color, religion, sex, handicap or national origin.
Click here more information and the applications.
If you have questions, contact Communications Specialist Melissa Glenn at 252.727.2221 or melissag@ccemc.com.