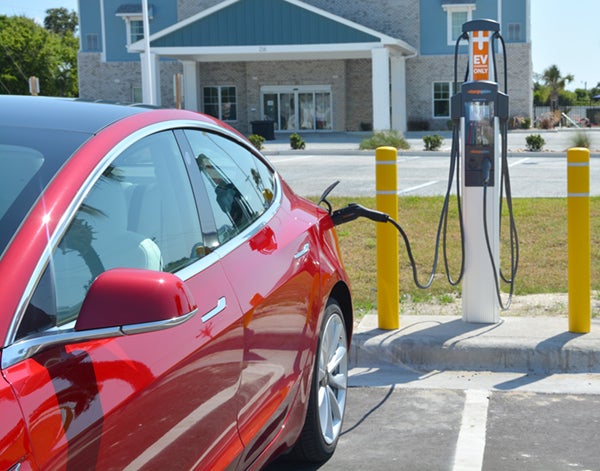 Electric vehicles (EVs) are becoming increasingly more popular, and the demand for charging stations is growing. North Carolina's electric cooperatives, including CCEC, are working to create a statewide network of EV charging stations, enabling more consumers in both rural and urban areas to adopt this technology.
The newest addition to the network is a ChargePoint Level 2 EV charger on Islander Drive in Emerald Isle.
7 Great Reasons to Drive Electric
Whether your priority is saving money, increasing convenience, helping the environment or experiencing the latest technology, electric vehicles offer something for everyone.
Significant savings. Powering a car with electricity is cheaper than powering it with gas, so electric vehicles cost less to run. EVs are becoming increasing affordable to purchase, and tax incentives and rebates, can also help reduce their price tag
More convenience. Imagine never having to go to the gas station again! Most EV drivers charge overnight at home, and A growing network of public charging stations also make it increasingly convenient to charge your EV no matter where you're headed.
Less maintenance. Because EVs tend to have fewer moving parts than gasoline-powered vehicles, they require no oil changes and less maintenance, which can help you save both time and money.
A better driving experience. Electric vehicles are fun to drive, with faster acceleration and a more responsive, zippy feel behind the wheel that offers faster pickup and improved turning power. They are quieter than gasoline-powered cars, too.
A healthier environment. Plug-in electric vehicles have zero tailpipe emissions, which improves air quality and benefits us all. Even when accounting for generation of the electricity that powers EVs, emissions are lower than those of traditional vehicles.
A stronger local economy. Electric vehicles decrease our dependence on foreign oil and encourage local tourism and economic development. The installation of charging stations can help promote tourism and commerce as EV drivers are drawn to the communities surrounding the stations.
A more efficient electric grid. By charging overnight, electric vehicles create demand for power at a time when the grid has historically been most underutilized and therefore least efficient. Electricity is most expensive when demand is highest, and spreading demand across more hours of the day helps flatten those expensive peaks.